Technical video of month by Sensei Ishana Pérez.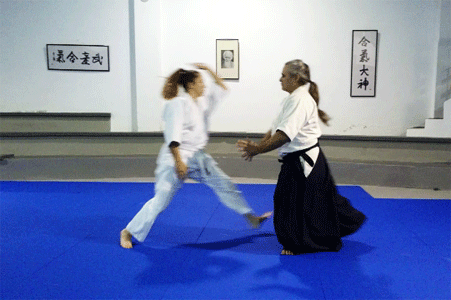 Udekiminage begins to study within our Plan of Estudies Kuubukan in 3th Kyu, see in the following link the technical program for this level:
http://www.dojokuubukan.es/grados_3_kyu.html
We continue to develop the Kashima Shin Ryu, on the work of the Kihon Tachi, in this case the movement presented in this video is inspired by the work of Uradachi, specifically in Kesa Tachi Zuke.
In the first trilogy of videos, is the first block, the upper video presents the basic movement, which has its foundation in the displacement of Kaiten Ashi, Paso Grande and rotation of the hips 180 º.
The next two below show two basic ways of facing the Atemi with that displacement and with the attack of Yokomenuchi: the 1st entering on the floating ribs with the elbow closest to the body of the Uke; The second elbow to the face of the attacker.
Both one and the other, it is devastating in a practical sense, by the Atemi itself, as by winning the center of the partner who performs the attack.
In the second block shows the movement of Aobsorción of the attack of the Uke, adhering to the arm that performs the Yokomenuchi, reaching in this case to the position of Aihanmi, which will facilitate the execution of many techniques, both in Nage Waza and in Katae Waza.
The third and final block shows the application with all the previous construction of the Udekiminage technique.
It is an innovative work in the capture of the arm of the attack, and subsequently develop Waza.
#AikidoKuubukan / #DojoKuubukan
Tori: Sensei Ishana Pérez.
Uke: Jessica Dudine.
Video: Jorge González y María Pérez.
Warning:
Performing these exercises without the guidance, instruction, maturation and proper guidance can lead to serious accidents.