Technical video of month by Sensei Ishana Pérez.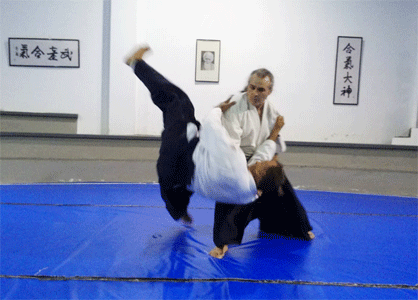 Kata dori Kokyunage begins to study in our Plan of studies Kuubukan in 3th Kyu, see in the following link the technical program for this level:
http://www.dojokuubukan.es/grados_2_kyu.html
The shoulder is the most mobile joint of the body, it is that mobility that we use to make this variation of Kata dori Kokyunage.
Another aspect to keep in mind is that we replace the work done on the elbow by the shoulder, so it is important to connect well with the partner through the contact of the hand that goes to him.
The Nage (the projection) is produced by the change of Hanmi (laterality) produced by the legs and amplified by the waist, that is to say that it is only necessary to gently manipulate the shoulder of Uke to bring it down.
It is obvious that the better we adjust the Time (the precise moment) the better the execution. It is possible or not to use Atemi, that depends on the Time and the different interests of the execution. Another important aspect is that we can project Uke in different directions, depending on space, displacement and circumstances.
This same work can be used for an absorption of the Uke, either rotating or unbalancing it in different lines of work and in this way make any other principle, Ikkyu, Shionage, Tenchinage ...
#AikidoKuubukan / #DojoKuubukan
Tori: Sensei Ishana Pérez.
Uke: Alberto Luís Méndez.
Video: Jorge González.
Warning:
Performing these exercises without the guidance, instruction, maturation and proper guidance can lead to serious accidents.