Technical video of month by Sensei Ishana Pérez.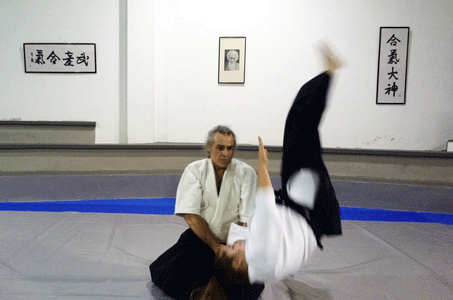 Yokomenuchi Shihonage begin to study within our plan of studies Kuubukan in 5th Kyu, see the technical program for this level:
http://www.dojokuubukan.es/grados_5_kyu.html
In the first block of 4 videos, the four key details that will lead us to the complete execution of the technique, which is the video of the end, are shown.
The second video, is the basic movement to build any principle from the approach with Yokomenuchi and applying the displacement of Kaiten ashi, with the absorption to Uke of that particular form.
Already in the third, it is the application of the principle of Shihonage.
Starting from the Kihon learning that is studied in 5th Kyu with Yomenuchi Shihonage that is done only in Tachi Waza, the work presented here is about two levels of execution, that is, going from Tachi Waza to Suwari Waza.
That implies several things:
The control of the partner to be able to apply the technique and not advance when going down, because if we can not make Kaeshi Waza (contras to the technique performed), and therefore win the time.
Structural attachment when going from one level to another, that is, having a good line of axis, because the most usual thing is that when changing the level the structure loses integrity, and that can be a serious problem.
That is learned in the base, and this is, when sitting and getting up throughout the classes, it is in this part where our somatic intelligence is learning and perfecting the transition from a standing level to a sitting position. As this part is perfected, there will be more effectiveness in applying the techniques with this approach.
Working like this, you have to be aware that you have two directions, the exposed one, Tachi Waza (standing) to Suwari Waza (to work on your knees), and conversely, from Suwari Waza to Tachi Waza, and in both ways we be will find the same obstacles.
In future videos we will make proposals in reverse.
#AikidoKuubukan / #DojoKuubukan
Tori: Sensei Ishana Pérez.
Uke: Jessica Dudine.
Video: María Pérez.
Warning:
Performing these exercises without the guidance, instruction, maturation and proper guidance can lead to serious accidents.