Technical video of month by Sensei Ishana Pérez.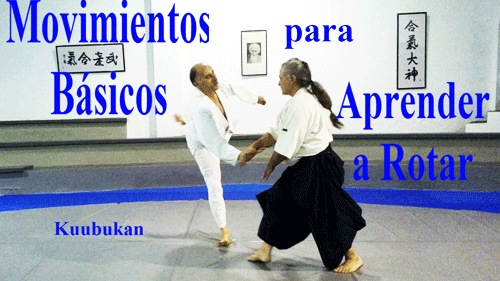 The reason for this video is as a preliminary support material for the students who attended our Aikido seminar in the Fall, November 10 and 11, 2018:
noticias.html#seminario_otono_2018
In our methodological effort to make the seminar profitable to the maximum, it has been recommended to the participants to carry out a month before, the basic exercises that are shown in the video:
After knowing how to enter - penetrate Aikido, the next thing that must be mastered is to rotate. There are many ways of learning to do it, the ones shown here are with a partner and they are destined to integrate them in the technical work, such as: Yokomenuchi, Morotedori, Kata dori, etc., as it is stated in the objectives of the seminar:
grados_3_kyu.html#waza_tecnica
The approach shown here is from Katatedori Aihanmi, and a base for Yokomenuchi, but that can be extended to any other attack involving a rotation.
The first thing is to situate the action from the position of Aihanmi, but instead of doing it with a grip, it is done in a more subtle way, with the palms of the hands of both, Uke and Tori.
The next thing that has to be given importance, is the use of the metatarsal, key aspect for the correct structural alignment in movement, as well as placing the center of gravity well, Tanden.
This as shown initially, is done with the displacement of Tenkan ashi alone:
Then, we begin to work with the positioning mentioned above in Aihanmi, rotating in series of 10 times on each side. It is important to perform this action on a hard mat, so as not to damage the knees.
The following work is in Yokomenuchi in a static way, so the action of rotating with a more complex exercise is refined.
And finally, and properly with the attack of Yokomenuchi, and with the same interception that was raised in the exercise in static.
By performing these exercises, simple and easy, we will arrive at the seminar with a work already advanced, and therefore, we will make it much more profitable.
On the other hand, our motor education will be expanded as will our practice in general.
#AikidoKuubukan / #DojoKuubukan
Tori: Sensei Ishana Pérez.
Uke: Jorge González.
Video: Rossany Roche.
Warning:
Performing these exercises without the guidance, instruction, maturation and proper guidance can lead to serious accidents.